As part of our project on the Women of the Revolution
with connections to Greystones,
that we prepared for The La Touche Legacy's 'Festival of History',
Ms. Murray's 6th class researched the lives of
Kitty Kiernan,
the Gifford Sisters
and Sinéad De Valera.
The students learned about these brave women. Then they were asked to choose one to write about. Teachers were interested to see that it seemed to be the story of Kitty Kiernan that captured the students' imaginations the most. The evidence for this was that more students chose to write about Kitty Kiernan than the other women.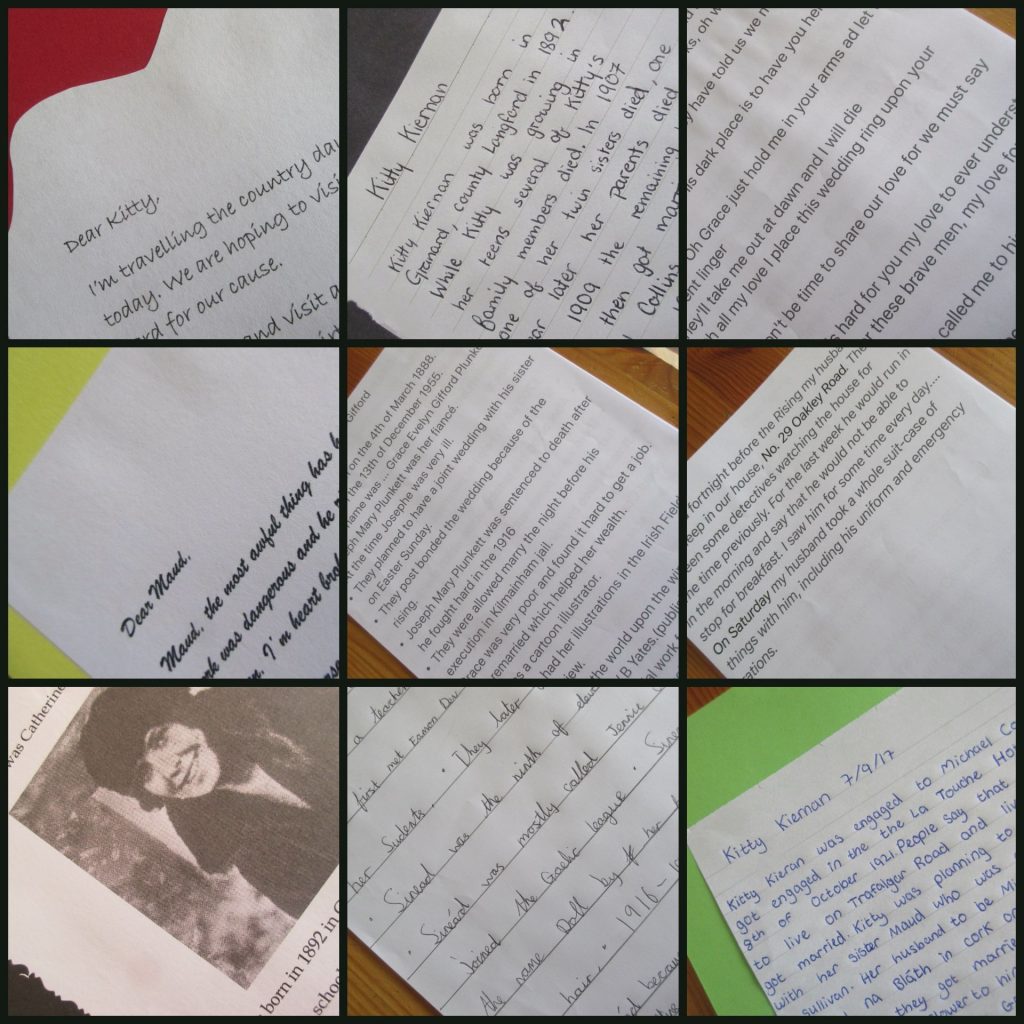 Kitty Kiernan by Ella
Kitty Kiernan was engaged to Michael Collins. They got engaged in the La Touche Hotel on Saturday 8th October 1921. People say that they were planning to live on Trafalgar Road and live there after they got married. Kitty was planning to have a wedding with her sister Maud who was going to marry Gearóid O'Sullivan. Her husband to be Michael Collins was assassinated at Béal na Bláth in Cork on the 22nd of August. At his funeral Kitty put a white lily flower on his coffin as a sign of peace. In October 1922 Kitty went to Gearóid and Maud's wedding. She wore a black dress because she was still sad of her husband to be's loss. Kitty died in 1945 on the 24th of July. Kitty Kiernan's is also a bar in Dublin.
Kitty Kiernan by Carine
Kitty Kiernan was born in Granard, County Longford in 1892. While Kitty was growing in her teens several of Kitty's family members died. In 1907 one of her twin sisters died. One year later her parents died and in 1909 the remaining twin died. Kitty then got engaged to Michael Collins in the La Touche Hotel in 1921 but he got assassinated on 22nd August 1922. Two months later she attended her sister Maud's wedding in black still weeping for the loss of Michael Collins.
Kitty Kiernan 10 Facts by Conor
Kitty Kiernan was born in Granard, County Longford.

She went to school in Loreto Convent, County Wicklow.

Kitty had twin sisters but one of them died in 1907.

In 1909 the other twin died.

On 24th July, 1945, she died of Bright's disease (and so did all of her siblings).

She was buried in Glasnevin Cemetery, Dublin.

Kitty became engaged to Michael Collins in the La Touche Hotel on 8th October 1921.

Kitty and Michael were going to buy a house on Trafalgar Road.

She had five sisters and one brother.

Her family owned the Grenville Arms Hotel and a hardware store and a grocery store.
Kitty Kiernan by A Compilation from Ms. Murray's 6th Class
Full name: Catherine Brigid Kiernan
Born: 1892 in Granard, Co. Longford
Family: She had five sisters and one brother, her parents were Bridget and Peter Kiernan. She was born into a wealthy family. They owned the Grenville Arms Hotel in Mullingar (Westmeath) as well as a grocer shop, a hardward store, a bar and a timber and undertaking business.. 
It was a happy childhood and the household was joyous until 1907 when one of Kitty's twin sisters died in their late teens, followed in 1908 by the deaths of her parents a couple of months between each other and in 1909 the death of her other twin sister.
She was educated in Loreto Convent, Co. Wicklow. Kitty was know for her good looks, charm and grace.
Michael was introduced to the Kiernan family by his cousin Gearóid O'Sullivan.
When Michael fist met Kitty he was with his friend and they both fell for her.
Michael fell for Kitty's sister Helen first, but she was already taken and then he fell for Kitty.
Michel Collins proposed to her in the Grand Hotel, Greystones, Co. Wicklow on the 8th of October.
The Grand Hotel is now known as the La Touche Hotel.
They planned to live in Greystones after they got married in the yellow house opposite the main entrance to our school.
They planned to have a double wedding ceremony with Maud Kiernan and Gearóid  in 1922.
When Collins went over to London to negotiate the Treaty,
Kitty and Michael wrote to one another every day.
Some of the letters they wrote to each other are in the Cork Municipal Museum.
Three hundred of their letters were put on display in 2000.
The letters were sent between 1919 and 1922.
The letters they sent were good information into Kitty's attitude to life.
She had a very stressful life.
Four months before the wedding he died.
Collins was shot dead in an ambush in Cork in August 22, 1922.
Kitty put a white lily on his coffin as a symbol of peace.
Kitty wore a black dress to the wedding of Maud and Gearóid.
In 1925 she married Felix Cronin who was Quartermaster in the Irish Army.
They had two sons Felix and Michael Collins Cronin.
Kitty died of Bright's disease (as did all her siblings)
and was buried in Glasnevin Cemetery, Dublin not far from where Michael was buried.
Felix died 19 years after Kitty.
They were buried beside each other.
Kitty Kiernan was played by an American actress called Julia Roberts.
Lots of pubs in Ireland and a few in different countries as well are called after Kitty Kiernan.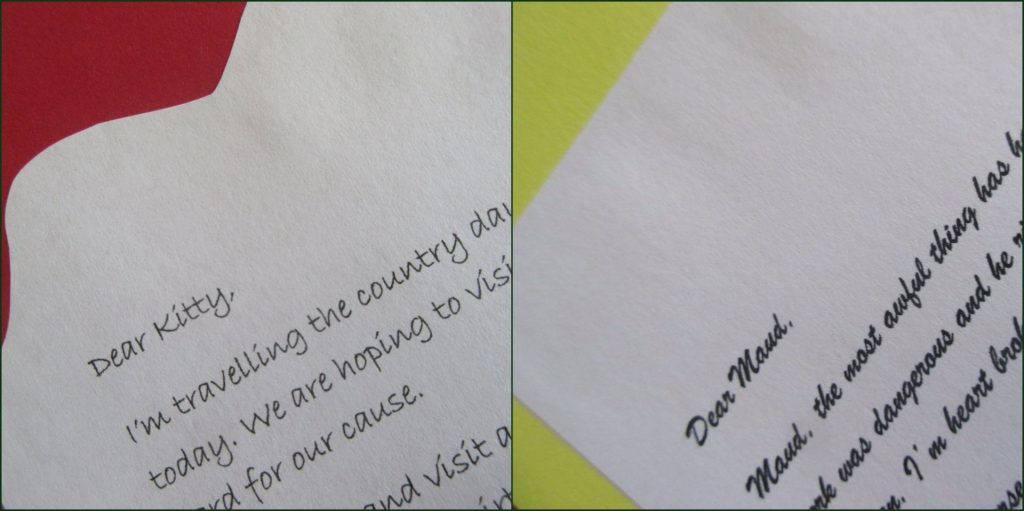 The students also did some creative work inspired by the story of Kitty Kiernan.
Alannah imagined a letter Michael Collins might have written to Kitty
20th August 1922
Dear Kitty,
I'm travelling the country day in day out. I am heading towards Cork today. we are hoping to visit the brave men in the country side who fight so hard for our cause.
I must try and visit as many as I possibly can, before I return in order to maintain their spirits and remind them what they are fighting for. Our cause is so important.
I hope I haven't left you with too much to do in preparation for our wedding. I do very much look forward to out upcoming celebration.
Your faithfully,
Michael.
Kim imagined a letter Kitty would have written to her sister after Michael Collins had been assassinated:
Dear Maud,
Maud, the most awful thing has happened. Michael has been shot in Béal na Bláth. I knew his work was dangerous and he risked his life so much. I always feared something like this would happen. I'm heart broken.
This of course affects you also. Our arranged double wedding will now sadly be a single wedding. I do wish that you go ahead with the nuptials and I of course will be in attendance. I hope you will not cancel the wedding on my account.
I will be home a week before the wedding. We can finalise preparations then. I of course must weat black as a sign o f respect to Michael,
Yours faithfully,
Kitty
The Gifford Sisters by Jessica and Amy
The Family
They had 12 children, 6 boys and 6 girls.
Their parents were called Frederick and Isobel.
The girls were called Catherine, Helen, Ada, Muriel, Sidney and Grace.
The boys were Claude, Liebert, Gerald, Frederick, Gabriel and Edward.
The boys were christened Catholic and the girls were christened Protestant.
From 1880 the family lived on Palmerston Road in Rathmines.
The girls went to Alexandra College.
Catherine, Sydney, Muriel and Grace turned Catholic in the April of 1916.
Frederick was the preferred parent because Isabel was strict and stern.
The family came to Greystones on holiday each year.
That is where they became strong swimmers.
Muriel Gifford
Muriel died in Skerries by drowning.
She passed away on the 9th July 1917.
She was married to Thomas MacDonagh.
Her husband was executed for his part in 1916.
Muriel died one year after her husband did.
At first she had no idea about her husband's part in 1916
Muriel and Thomas were married on the 31st January 1912.
She met her husband in college in 1908.
She had survived in girlhood a fever and had a weakened heart.
Later in 1915 she was diagnosed with a blood clotting illness.
One of her husband's biggest concerns was how Muriel would cope with his death.
Muriel's daughter kept the seashells they found on the beach before she died.
Grace Gifford
Grace was born on the 4th March 1888
She died on the 13th December 1955
Her full name was Grace Evelyn Gifford Plunkett
She was engaged to Joseph Mary Plunkett.
At the time Joseph was very ill.
They planned to ahve a joint wedding with his sister on Easter Sunday.
Joseph Mary Plunkett was sentenced to death after he fough hard in the 1916 Rising.
They were allowed marry the night before his execution in Kilmainham jail.
Grace was very poor and found it hard to get a job.
She was a cartoon illustrator.
After her sister Muriel died herself and her sister Catherine looked after
Muriel's two children.
She got arrested during the Civil War.
Her husband left his money for Grace but her in laws took it.
Grace brought them to court and she got given 700 pounds.
She had very bad health which caused her death.
After being in a nusing home which she didn't enjoy.
She was at home when she died.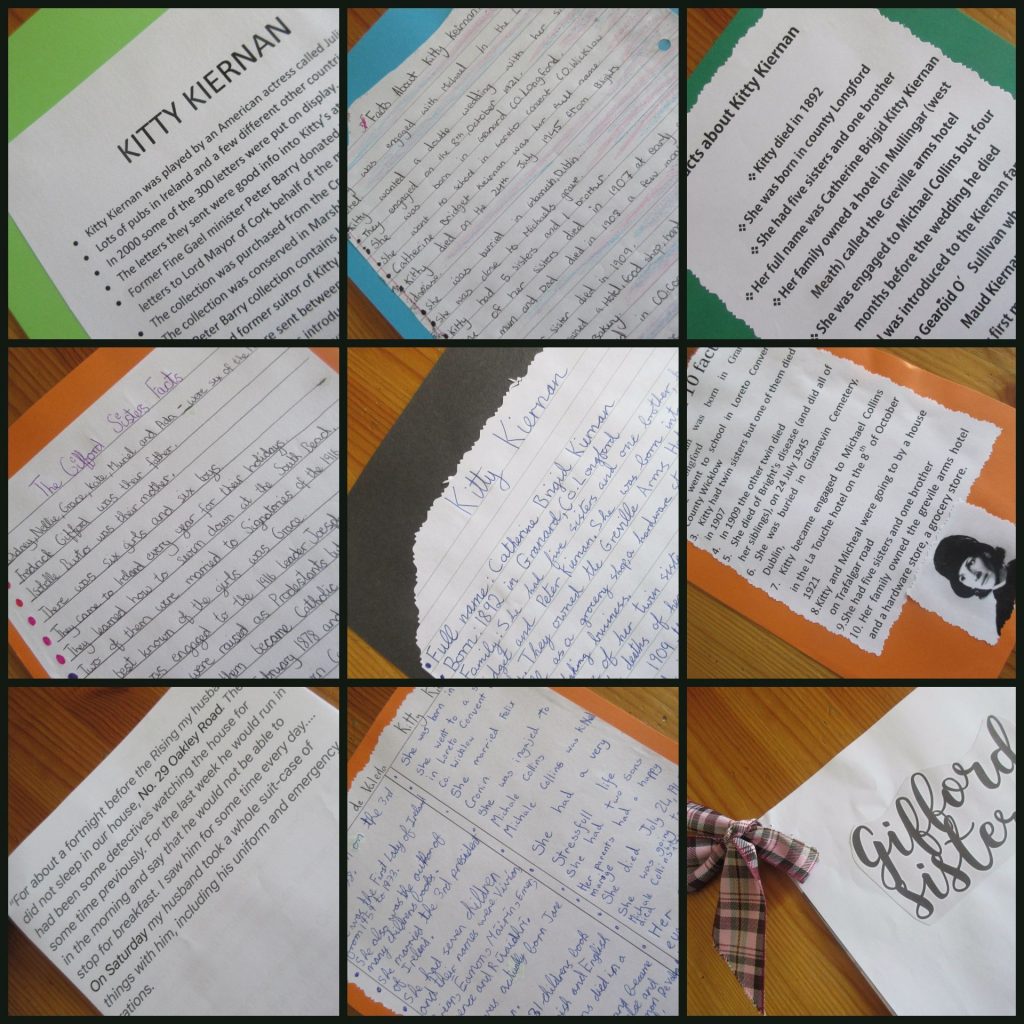 Sinéad De Valera by A Compilation Ms. Murray's 6th Class.
Sinéad De Valera was born in Balbriggan on the third of June 1878.
She was the nineth of eleven children.
She was given the name 'Doll' by her father because of her auburn hair.
She was mostly called Jennie until she joined the Gaelic League.
She worked as a teacher.
She first met Éamon De Valera when he was one of her students.
They got married in 1910.
She was married to Éamon De Vaera making her the first lady of Ireland from 1959 – 1973.
Her husband Éamon was sentenced to death after the 1916 rising.
This sentence was commuted to servitude for life.
In June 1917 he was freed, then he went to America to raise funds for Irish freedom.
During this time Sinéad lived in Greystones.
Michael Collins visited the family every week bringing money and food.
Sinéad had seven children: Vivian, Máirín, Éamon, Brian, Ruarí, Emer and Terence.
In the time Éamon her husband was in jail or America,
Máirín recalled her younger siblings talking about their father saying
'Who is Dev?'
'I think he is Mummy's father.
All but one of the children went to St. Brigid's.
Sinéad taught Irish in St. Brigid's to the children and the nuns.
She was the author of many children's books in both Irish and English.
One of her sons died in a riding accident. His name was Brian.
She died on the 7th January 1975, aged 96.