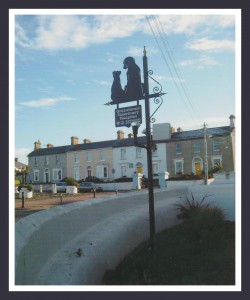 This is a primary school project about the local history of Greystones,
the town where we go to school.
1. We aim to be accurate. If you spot any mistakes please tell us and we will correct them.
2. We would love to hear any extra information you might have about the local history of Greystones.
3. We have tried to credit all our sources. If we have missed any please tell us and we will put it right.
4. If you have any questions about the history of Greystones ask us and we will try and find out the answer.
5. We would welcome your comments, suggestions and advice.
Thank you.
We are very lucky to live in Greystones.
We can learn a lot about history in the locality.
By learning about Greystones as a local history topic,
we can learn about lots of important times and people in history e.g.
The War of Independence
World War 1 and 2
as Greystones has a connection with all these periods in history.
Wessex Archaeology via Compfight
Greystones has links with the Stone Age people.
We know this because neolithic flints have been found in the area.
When we learn about the Bronze Age in school, there is a link to Greystones.
A rath was built at Rathdown during the Bronze age.
Tom Simpson via Compfight
Greystones has its links to the Vikings too.
One of the ways we know this is through local place names.
For example the word Windgates comes from the Viking word 'gata' which means 'road.'
The Normans played a big role in the history of Ireland and the Normans were in Greystones too.
They built Rathdown castle soon after their arrival in the 12th century. 
The first of the La Touche family to come to Ireland came as a soldier in William of Oranges' army around 1689.
Kindlestown Castle was built by another Norman, Walter de Bendeville.
Mike Steele via Compfight
Cromwell, a villian of Irish history was rumoured to have spent a night in Killincarrig Castle. 
On the same trip, he ransacked Kindlestown.
Rob Hurson via Compfight
During the 1798 rebellion, the Irish rebels hid in the Kindlestown.
Greystones even has links to World War 1 and
Tambako The Jaguar via Compfight
World War 2.
We will be researching these and writing about them.
Other famous people from history with links to Greystones include Isambard Brunel,
who engineered the railway between Bray and Greystones,
Colonel Frederick Burnaby who visited Greystones, who is remembered in a number of place names around Greystones.
Gwydion M. Williams via Compfight
The family of the former President of Ireland,
Éamonn de Valera lived in the Burnaby from 1916-1922.
Some of his children attended our school.
Michael Collins used visit Greystones too.
We are lucky to go to school in an area that is so rich in history.