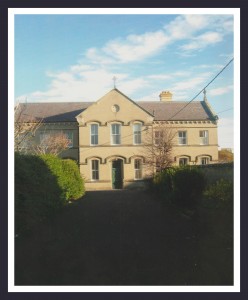 In 1903 Rev. Nicholas Donnelly
Parish Priest of Bray and Greystones,
asked the Holy Faith Sisters
to take charge of a school at Blacklion.
It was situated to the left of
the entrance to Applewood Heights.
The Sisters already had convents in
Newtown since 1892
and in Kilcoole since 1897.
From 1903–06 Sisters Mary Dionysius, Joanna and Anthony
travelled from Kilcoole each day by pony and trap
to teach in Blacklion School.
They were driven by one of their students.
In 1906 the Sisters came and built a convent
beside the church in Greystones
on land bought from the La Touche family.
Sisters Mary Winifred, Peter, Bertrand and Reginald
stayed in Kilcoole Convent
for a two weeks or so until the convent at Greystones was completed.
Seven pupils were enrolled at first but these numbers gradually grew.